Okay!  Today was the day! Brace Delivery!  (FINALLY!) I mean it's been a month since we originally molded.  Yikes!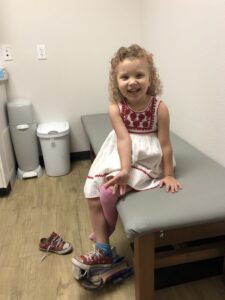 Let's do this!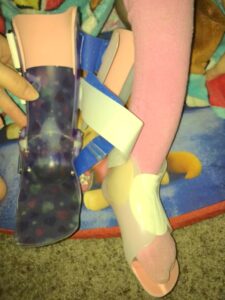 This brace is really different, not only because it has a hinge, but because it has 3 pieces.  The AFO, the front shell, and also a boot (with a chip sewn in).
So, first we have to put the boot on, which is made out of the familiar super soft plastic.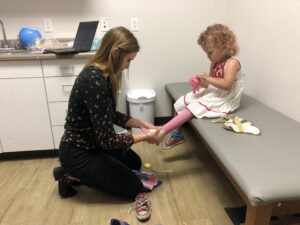 Then slides on the actual AFO, now made of a much more rigid plastic due to her being older and needing a tougher brace to handle her at play.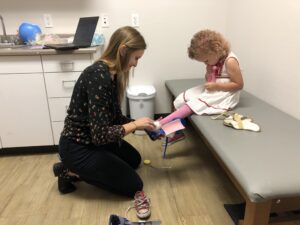 Cammie was pretty concerned that she have a good fit, and that the boot and AFO lined up really well.  (They did!)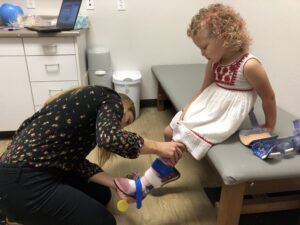 Once we got her in good and tight, we trimmed down the footplate and went for a walk up and down the hall.
She said she was comfortable, but I know she almost always has trouble on the inside of her knee.  So I immediately looked to see how tight it was.  Guess what?
It's nowhere even CLOSE to her knee! Whoa… not cool dude.  I feel very conflicted about this.  By now, her old brace is so tight that it barely makes contact around her leg, but this guy is SO short.  But maybe that's okay? I don't know, but look at a comparison shot? Here's Brace #9 on delivery day vs. this one today.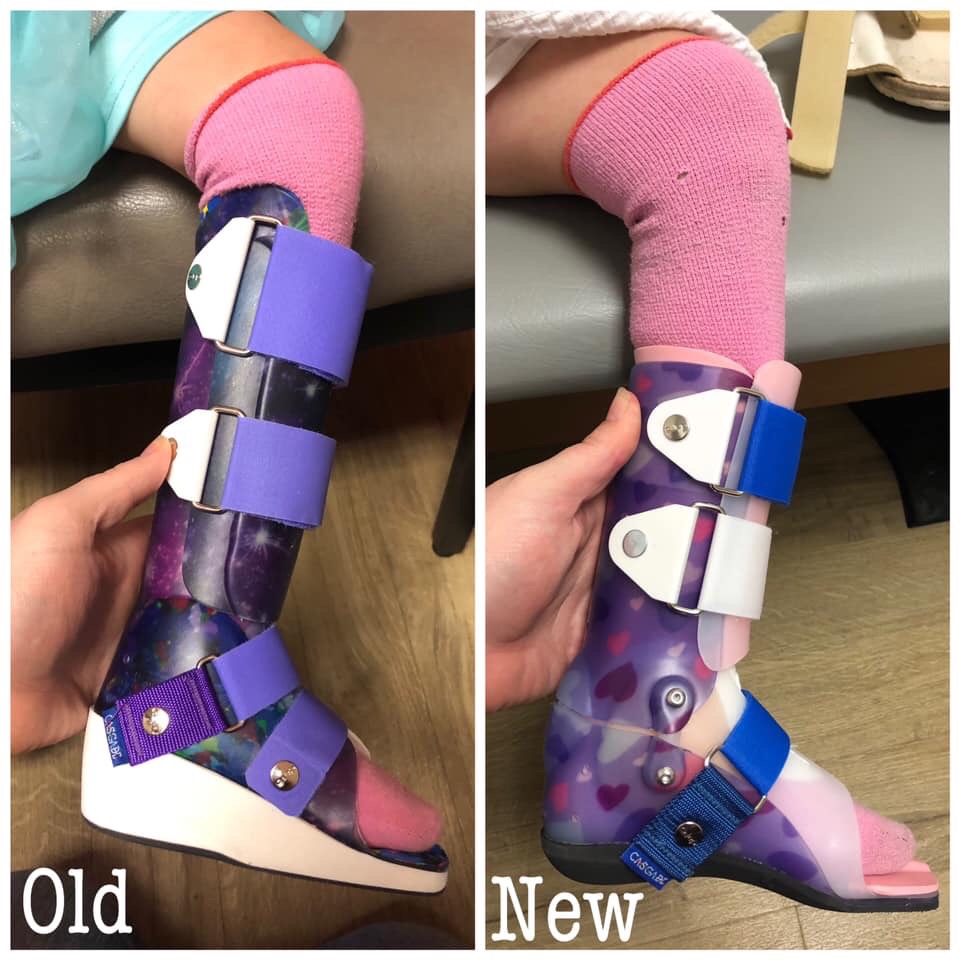 The difference is absolutely staggering.  I put in an immediate email into Dr. Hoffinger, but we decided to accept the brace for now.  If Dr. Hoffinger feels that it it too short, then we will have it remade.  In the meantime, she's adjusting to the new feeling of the hinge.  She's not really a fan, but with time, I think she will quickly adjust.
On a separate line of thought, my knee-jerk reaction to reach out to her doctor startled me.  I called Stanford as a follow-up to my email, and I learned that he decided to resign to take part of this program in London.  I'm absolutely devastated.  So, I decided to move up her next appointment to the 27th so we can see him one last time.  I only hope that when her returns to the States, it will be to a practice that accepts our insurance. I have no idea what we will do after next month though – I need a doctor who knows what he is doing and understands what we have done. Uncertainty is not my friend, and that crack in her graft is still worrisome…
For now, I will work with what I have.  Time to buy shoes, because guess what?  Hers don't fit.  (SURPRISE!) Time to give Billy Shoes another try.  On the positive side, I remembered her old cast shoe, so she was able to wear that out to the car today.
Think good thoughts and send prayers our way.  We both need them for patience, and luck.