It's a testament to Stanford that I called in desperation to find a way to help lessen my child's pain, and they were happy to get me in the next day.  So thankful for their understanding, and all the toys in the waiting room to keep my child busy while they squeeze us in.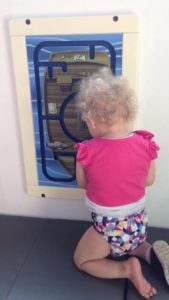 This was an incredibly long appointment.  Dr. Hoffinger, and Kyle from Diablo Prosthetics and Orthotics listened to me, and to Amy, as we tried to puzzle out ways to help her.  After we talked, we played in the waiting room until she complained of pain, then we adjusted, adjusted, adjusted until she seemed comfortable.
In the end, we decided that a different, more open design, may be better for her.  But for right now, Amy seems a lot more comfortable, and that's the most important thing.