Today was a big surprise! We made an appointment to meet Chuck, our new orthotist here at Hanger in town. He didn't have any available appointments until July 7th, but they allowed us to come in today to get new velcro. (Hers was in super sad shape.) Hanger is no longer taking walk-ins, so we arrived, masked up in provided masks, and were escorted straight to our room.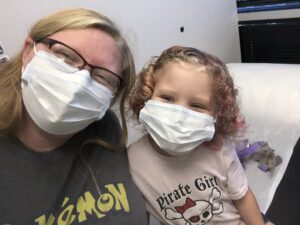 After a short wait, we met Chuck, who seems very personable and knowledgeable in general. He's been an orthotist for 40 years, and loves working with kids. He didn't know (or recall) much about CPT, but that seems pretty par for the course. He got right to work on her velcro.
While Amy and I were hanging out waiting, she reminded me to turn in her prescription for her new brace, so I couldn't misplace it. (She is so smart.) I retrieved it from my car, returned, and we continued to wait.
Chuck returned, not with her brace, but with a copy of her prescription and molding tools. He said there was no need to wait, we were already here, why not do it now?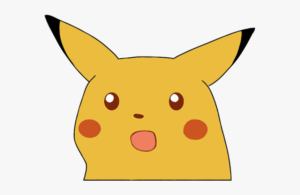 OF COURSE we agreed! Hay Hanger! Very efficient!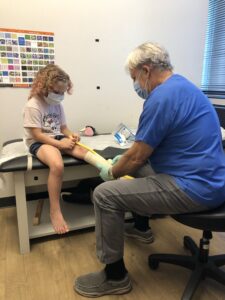 Chuck got right to work but I couldn't help noticing that the mold was pretty low, with no knee support at all. Not good. I was also nervous to say anything, because, what if he didn't react well?
I said something. He double-checked the prescription, and said that it didn't mention anything about the brace being PTB (Patellar Tendon Bearing) but if that was what she needed, he had no problem with that. He quickly added more molding material up over the knee, adding that it was better to have too much of a mold, than not enough.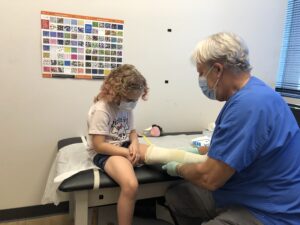 This bodes really well for our relationship.
After that, he took a few measurements, and removed the mold, and then Amy got to pick out her pattern, and a second pattern, just in case the 1st is out of stock.
Then he handed over her refreshed brace, with white velcro. Too bad it's white, but it will do a good job holding the brace closed, and that's all that matters.  🙂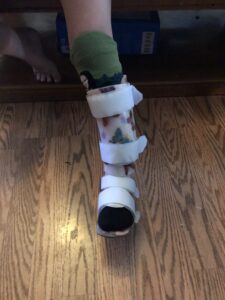 New brace July 14th! (Unless it comes earlier.) 🙂