So, we pulled the Exogen out of storage, put the gel on, attached it to her, got her set up with a show, and let her turn on the Exogen.  The first thing is showed was the calendar filled with X on each day, because we hadn't done treatment in months. "33% compliant" it read.  Wow, that's a lot higher than I would have thought, considering it had been so long!
Then it clicked to the next screen.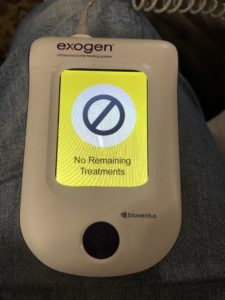 What? And it was Friday night.  UGH.
Fast forward to Monday.  I contacted Customer Service and they said that often if you let it sit too long, that the device will lock out. Amy's prescription (written in March) was still good, so we were instructed to return the device and the case only in the postage paid bag provided. Amy's Dad took it to FedEx, where he'd JUST missed the cutoff time for next day to the East Coast.  Damn.
Hopefully we can  have it back Thursday or Friday, because Amy is wailing, "BUT I WANT MY TREATMENT SO MY LEG TO GET BETTER!" 🙁 My poor baby.  🙁