Take Teddy's picture!
Back at Shriners again, but if you look close, you'll see she's wearing cast #5.  The dog peed on the linoleum, and she walked in it.  Unbelievable…  Anyways, Cast #5 comes off today, and we get Brace #1!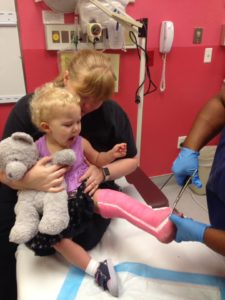 It was no one's surprise that even after having 4 casts removed all within the space of a month, she still screamed and cried when this one came off too.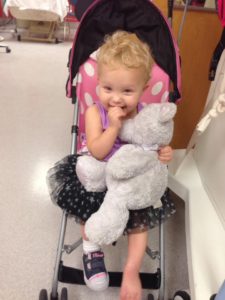 But after it was done, I got a smile out of her.  🙂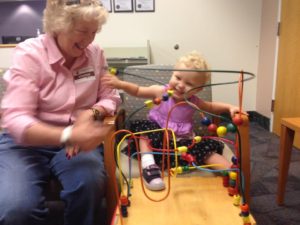 After cast removal, we headed upstairs to prosthetic and orthotics to meet up with Sonny again.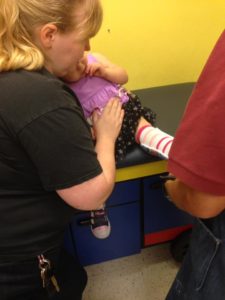 She put on her special long sock, but it was too big in a few places, especially the foot!  So Sonny drew on the brace so he knew where to cut it, and we got to go back to the waiting room and play for a bit.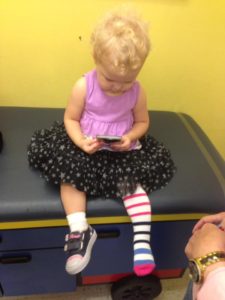 The second time we tried it on, it was still too big.  Amy's brace has to fit just right.  He said that it wouldn't be long this time though.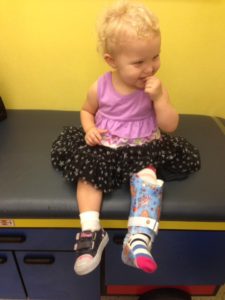 It fits!  She really likes the little kitties.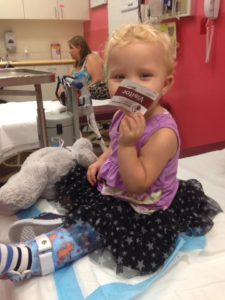 Next we went back to the casting room to meet with Dr. Kulkarni.  He says that it may be as long as a month before she starts walking again.  But that doesn't stop her from being silly!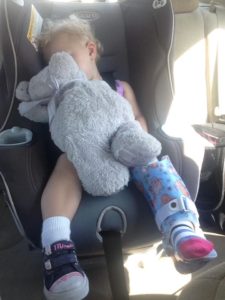 ——————————————————————————
She was pretty tired after her busy morning, but guess what we found out?  Amy's shoes don't fit her brace.  So now we have to go shopping.  According to my tribe on Facebook, the best shoes for braces can be found at Payless, the Champion brand.  So, that's where were headed.
Shoe shopping was HORRIBLE.  Everything she wanted didn't fit.  Everything that did fit, was pretty ugly, but she was excellent at making us laugh.  She may not be walking, but her sense of humor is very much intact.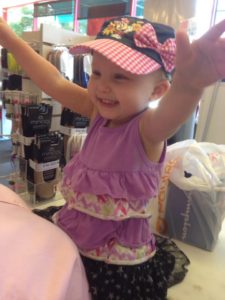 While finding shoes was tough, she did find a hat she loved, and it was on sale!  Bonus!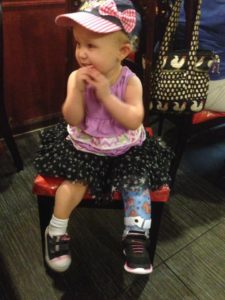 After all that work, we settled on a par of black sneakers (Champion brand) that fit well.  However, it was way too big for the right foot, so she needed a 2nd smaller pair… which they didn't have.  So we found another store who had a pair and they agreed to hold it.  We decided that this was a perfect time to break for lunch, we were starving!  We also agreed that we deserved Yen Ching – my favorite restaurant.
After our meal, Amy received this fortune:
It gave me pause.  We had made an appointment to see Dr. Boakes in January… something about Dr. Kulkarni really bothers me, I just can't put my finger on it.  This fortune gave me the shivers.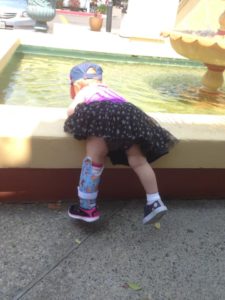 Then we went back outside, and I saw this.  Leg or no leg, brace or no brace, matching shoes or no – Amy is certainly still Amy.  That's the important thing.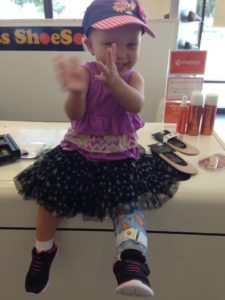 Now at the 2nd Payless store, and Amy has two matched shoes! 6.5 on the right, and 7.5 on the left.  Mission Accomplished!
Now we can all relax.  She and her leg are safe.
——————————————————————————
Back at home, we had given this toy to Amy 5 weeks ago for her birthday. But because of her cast, she could never play with it. But since we have no cast, TODAY we finally took it out of the box and she got to play with it! And guess what? For the first time, she finally stood unassisted!!!
Then, just a short while later, she was WALKING!
Super proud of my baby girl.  We are going to kick CPT's BUTT!