So, life has been a little crazy lately. We moved into a new home, and it is a bi-level home with stairs. (STAIRS!) That was a little scary for me, but Amy seems to have taken to it quite well. A couple days after Amy had her mold taken for her brace, I had my head stuck in a cabinet shelf-papering. Then I got a call from Hanger asking if I wanted to make an appointment at their clinic in Stockton. (Huh???) I told them that there must be a mistake, because I already had an appointment in Modesto on the 3rd. She apologized for the mix up, and told me to have a nice day. I wrote it off as a mistake.
The next day, I got a call from my insurance company asking me if I knew there was a clinic in Stockton. I explained all the troubles we had had there, and she said that she understood, and would now authorize her brace… nearly a week after her mold was taken. I was upset, and asked why she just didn't call and question us. She said she was following procedure. I was upset, but it could be worse, right? We just needed to move on.
The next day, a week after Amy was molded for brace #10, I got another phone call from Hanger in Modesto. Apparently, that same woman from our insurance called and informed them that we were switching care providers. As a result, Amy's mold was destroyed. DESTROYED. WTAF?!?!? Why didn't anyone call me?!? Also, they didn't have any appointments available until today's appointment.
*sigh*
So, here we are. Making brace #10. Again. Ugh.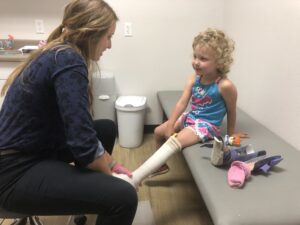 Cammie was very careful to measure all the unique angles in Amy's leg after molding, then we got down to the business of choosing colors and patterns… again.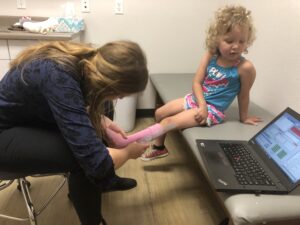 Hopefully this time things will work out better. In the meantime: STICKERS!!!