Delivery day! I was grumpy today, because Amy's Little Brother took a small part of her wheelchair off. I ordered the part he took (and lost!) from Medline (the wheelchair company) but I'm hopeful it will turn up. (Ugh!) 3 year olds, am I right? Positives: With shipping it was only about $20. Negatives: Probably won't be here until next week, as it's coming from Wisconsin.
Anyways, no school today, (because turkey) so we headed straight to Hanger this morning. It feels almost silly to be getting a new brace 15 days before surgery, but the the dye was already cast. Also, having that fixed ankle will probably be better for her for those times when she actually walks.
Anyways, brace is here, and super adorable! (The one on her foot, lol!)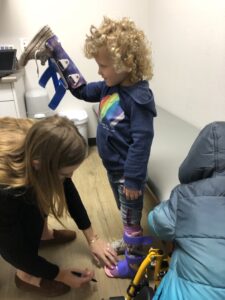 Amy said that the brace felt really nice, but the footplate was too long and needed to be trimmed. (as usual)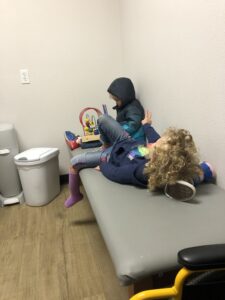 While we waited for her to trim it, Amy and her brother played and got their sillies on. ?
Cammie spent a lot of time fitting Amy, having her walk, and going back to make adjustments a couple times.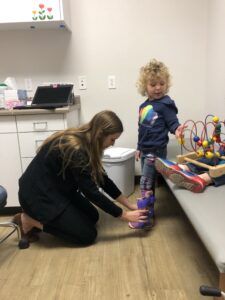 In the end, we had a pretty good fit! Amy didn't want to walk the second time, but we talked her into it.
An easy visit, though (as usual) getting it right took a fair amount of time. ? I really appreciate that Cammie never seems to rush us – it seems important to her that she does a good job – I super appreciate that.
So, closeups! Like I said, it's fixed again. (No hinge) This will give greater stability to her bow. (Wow. Looks super bent here!)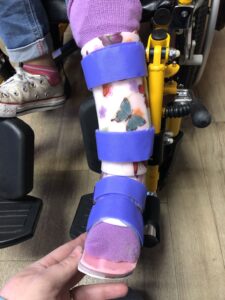 We still have the boot!  I was very surprised to see that.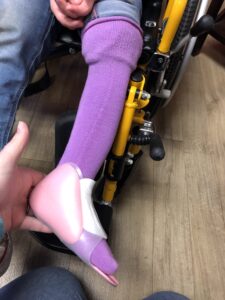 I thought that the boot was just a hinge thing, but Cammie says that it's something that they do for older kiddos to increase contact. Learn something new at ever visit. ??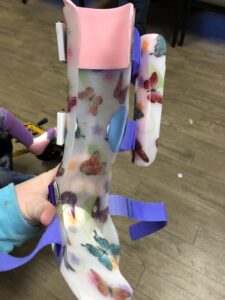 This brace has extra padding right at the apex of her bow (blue padding) to give her some extra cushion. It's made from memory foam. (Oooooh! Fancy! ?)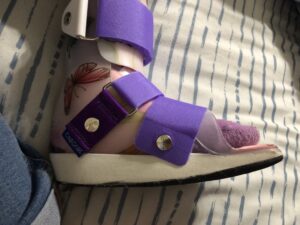 Cammie (and Spenser) both decided the best thing was to put the wedge back on her foot again. Even though she is capable of putting her foot in a neutral position, getting her up on her toes takes even more pressure off her bow. Theoretically, this will help with pain control. It seems super counter-intuitive, but it seems to work last time. So, we're giving it another shot.
All in all, I'm slightly sad we'll only wear this for 15 days- especially since it's so cute! But she's happy, and seems to be more comfortable. That's all that matters.
Dear Insurance Company,
I am so sorry my baby is so expensive. ?
Sincerely,
Amy's Mom