The alternate title of this post could be "The Moronic Orthotist Who Obviously Hates My Baby" *sigh*
Anyways…
Today we got brace #7! I was surprised to see we had (yet another!) new brace design- since I was ridiculously specific about every aspect of the brace I wanted…
But hey!  What do moms know??? ?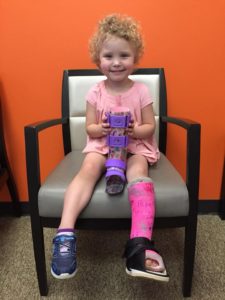 First, the pattern! Isn't it adorable?? I love it!!!! A concern: doesn't it look awfully straight? Hmmm. They were not supposed to straighten her brace this time… I'm a little concerned that he may have blown me off about this. We'll see what Dr. Hoffinger says.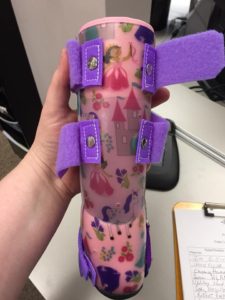 The front part of the brace is worn on the outside, as before. However, it is long again- we haven't seen that since brace #4. Not sure how I feel about it, because it will be hotter for the summer- but also more protection, so we'll see! Also the front is riveted on, like before- but with this double loop design? Yet another example of our orthotist not understanding/listening to me. *sigh* But, who knows? We may like it!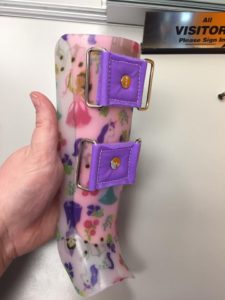 The pain part of the brace looks the same, except it has Velcro on both sides of the leg. (Why???) It already has a no-slip surface on the bottom, and the footplate is very long. But that is to be expected, because it hasn't been fitted, or cut down to the size of her foot yet.
The brace will be fitted (Hopefully!) on Monday as long as her x-rays show some healing. Kyle (The orthotist from Diablo) will cut the foot plate down then, add ventilation holes, and probably cut down the top as well. 
Amy's reaction? Amy is displeased about not being fitted today, and very vocal about this turn of events. "I want my cast OFF! I want Dr. Hoffinger to take a picture of my leg! I want to ride the train!"
Ah, to be 3 again. It's gonna be a long weekend, huh? Maybe I'll hide her brace until Monday. ???