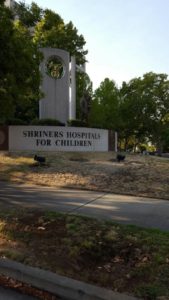 We arrived about 30min early, and stood in a short line (there were 2 families in front of us).  We never received our new patient packet, so we had papers to fill out.  Plus we needed to turn over her x-rays, shot records, insurance card, social security card, and birth certificate.  We got through 4 or 5 questions before they called us back.  (No wait! Cool!) Usual doc stuff, height, weight, temp, and we went to our room, which was (interestingly!) named after the constellation Centaurus.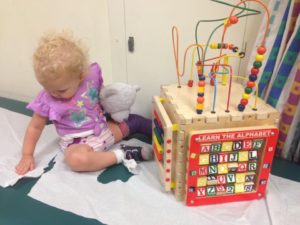 A couple minutes later the doc came in.  Apparently, all our paperwork was missing, as is apparently often the case with urgent cases.  "So, I see she has a cast on your leg.  What brings you in today?"  I admit, I was a little concerned at this point.  We explained about the limping, and the subsequent diagnosis, and he asked right away if she had NF. He asked to see her spots, and told us to lose the skirt.  He kinda gave her a cursory glance, and then sent us off to remove the cast and get new x-rays.  We split up, leaving our teenage daughter and infant with Daddy, while I took Amy.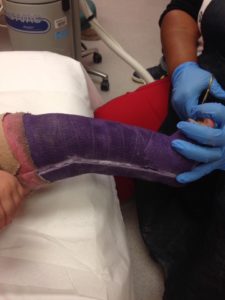 Amy did not enjoy the cast removal.  She screamed through the entire thing. I took note of the sores on her feet.
My poor baby.  She promised extra padding in those areas, and a covering on her poor heel when she got her new cast.
We headed off to X-Ray, got new films (not fun either!) and then she got to pick a toy for (semi) cooperating.  She picked a white stuffed bunny.  After, we headed back to her room.  We had an opportunity to talk with the doc, and he answered my thousand questions.  I felt heard for the most part.  I apologized to asking so many, but he said it was expected for a 1st appt.  I do find him a little intimidating, and I felt like my knees where shaking the whole time.  He tried to put me at ease, he did.  I don't know why he couldn't seem to be able to.
• How long have you been treating CPT?
For about 5 years.
• How many patients have you treated in that time?
A "handfull"
• Under what circumstances will you recommend amputation?
Certainly not at this point.  We should absolutely try a surgical reconstruction first.  If that fails, a 2nd or even a 3rd surgery.  After that, it's time to start thinking of amputation as a viable strategy.  The important thing is not to look at it as a failure, but as another path to improve the overall well-being and quality of life of the child.
• What brace do you recommend for Amy?  How far up the leg should it go?  Why?
A clamshell brace with a PTB extension up the knee.
(Not 100% sure what that is, but Amy's will be blue, and have kitties on it!  Hopefully a hinge on the ankle to allow for movement, but that depends on if there is enough room to put one.
• How long will it take to make, and when can we start?
It will take 3-4 weeks, and we'll start as soon as you're ready.
• How can we protect her leg in the meantime?
She has a pretty severe bow, also if you look here at her x-ray, it looks like she has a fracture forming.  I think a cast is the best option for now.
• Are there any daily activities that we should limit?
Anything that involves falling.  Be careful on play structures, or limit them.  Don't take away her childhood, but be careful.
• Should she wear the brace during sleep, swimming, and bathing?
It can come off while swimming and bathing, but no weight-bearing while it's off.
• What is the plan if she fractures?
If it's a trauma fracture, go to the ER and they'll splint it.  Call us, and we'll see you the next business day.  We'll try a surgical reconstruction first, probably using an intramedullary rod, bone graphs, possibly BMP (Bone Morphogenetic Proteins)
• How do you feel about telescoping rods?  Taylor Spacial Frames? Why?
Telescoping rods are great in theory, but prone to mechanical failure. It's certainly something to discuss when the time comes.  We do use the frames, but typically not for CPT.
• If she stays fracture-free, how (and when?) do you plan to straighten the bone?
That's a long way off.  Hopefully some growth will help, but more likely a reconstruction when she's older.
• What if we begin to notice a discrepancy in leg length or foot size?  What then?
It's easiest to start by making it up with the brace, but we can always slow the growth of the good leg to let the other catch up.
• What do you think of Dr. Dror Paley's method for treating CPT?
He has a mixed reputation in the orthopedic world.  He has a very aggressive strategy, and I believe his numbers (100% success, 0% refracture) have been tampered with.  If he had that kind of success, why doesn't everyone use his method?  I think 50% is more realistic.
• How often will we take x-rays and get new braces?  Will that be done here?  Or somewhere in our city?
Everything is done here.  Once you're in a brace, I think a check every 6 months is warranted, unless you suspect a problem.
• What about physical therapy?
Not at this time.
• What sort of outcome do you see for Amy at this time?
It's hard to say, just take it day-by day.  I suspect that she will fracture within the year, but the longer we can stave that off, the better.
• Do you think that you are the right doctor for Amy, or do you think Dr. Boakes might be a better fit?
I feel very confident caring for her, but you need to be comfortable with who you see, and the entire team will work for a good outcome.
"So," he asks me, "what do you want to do?"
What else was I going to say?  "Let's go get a brace."
He said he'd see us when the brace was ready, and then again 6 months after that.  He said goodbye, and we were escorted up to the 2nd floor where we met the man who would make the mold for her leg.
He was really nice, and answered all my questions about the making process, and Amy was entranced watching him.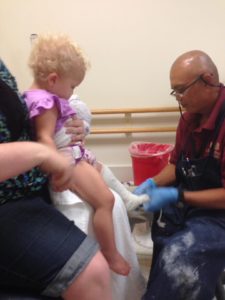 Next, we headed back to the casting room.  Because Amy couldn't walk on her leg, she was in the stroller watching Lindsay Stirling perform.  Hey, it kept her in her seat!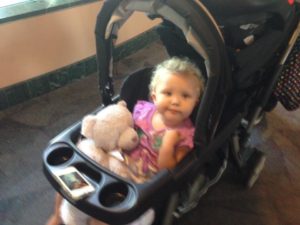 She was a lot more compliant getting the cast on this time.  She chose pink, and this one ended up higher on the leg, and with a bigger bend at the knee.
It will come off, and she will get her brace on August 26, 2016.  4 weeks from today.  After all the excitement, she crashed pretty hard.
I got a lot of info and I'm still digesting it.  But for now, I feel like we're in the right place – and that's the most important thing.