Wow. One year. It's astonishing how fast this year has flown. A year ago we were so afraid.
"Is it broken?"
"Is this the right choice?"
"What if it doesn't work?"
"Will it heal?"
"What will the outcome be?"
So much fear and uncertainty, and yet, here we are. One year later. We survived!
Today was a very interesting visit. We went to a different location today due to logistics, so we met Dr. Hoffinger's team in Palo Alto. They were very nice, but sorry! They just aren't the Emeryville team. Those guys (particularly Nurse John) are seriously rockstars.
Anyways, we showed up early, and had a short walk to the office. Upon arriving, we realized that we had left Amy's "fun bag" in the car. Que an excessive whining of my 4 year old stretching "Mooooooooom" into a 7 syllable word. ? Thought only teens did that?
So, we broke out the bubbles.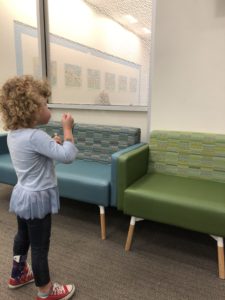 We were called back, but (oddly) were not taken to x-ray. Also, she was prompted to put on hospital shorts. Why??? So, we passed on the shorts, and made more bubbles while we waited.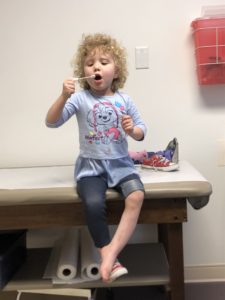 Now it's time to look at old x-rays… which are missing? So after a short man hunt, a few phone calls, and peeking at her x-rays on this site, we were sent to x-ray for new images. Saw that coming!
Guess what we saw…
AP view: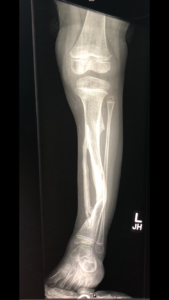 Immediately, two things jumped out:
1. It's broken??? Her fibula has broken away from her tibia! See? The little bridge is very obviously missing.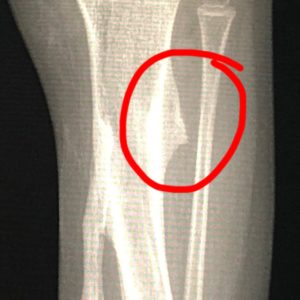 So, I was like, WHAT??? I was pacing like a lion waiting for Dr. H to return. Turns out, he doesn't think it's too big of a deal. We've never really paid attention to it, because it always looked good, but here, you can see that last month is was already failing.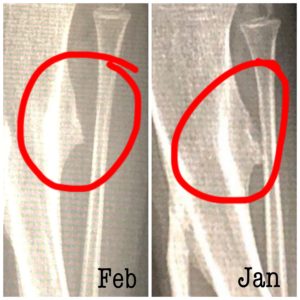 It is what it is. Today, he's not convinced joining them was the right move, and obviously, her body doesn't want to do that. So we will leave them separate, as God intended.
2. What the heck is this mess? It looks WEIRD!!!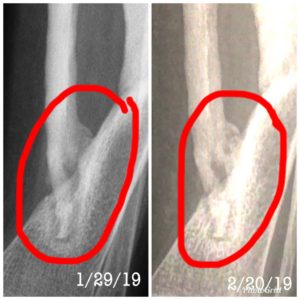 "So, what the heck is going on here?" I asked. "Hmmmm," he says, "you know what that is? That… is really weird looking."
???
That was… very helpful. ?
Next was measurements. We decided to measure each of her legs, from her hip bone to her heel to look for any limb length discrepancy. Both of her legs were exactly 21cm. So as of today, we have ZERO Limb Length Discrepancy. That was some really good news. That is now entered into her chart as a baseline. I should measure her feet…
So, what now? Zero clue. But, we appear to be moving in an overall positive direction. She walks, she runs, she jumps, she has no pain, she's happy, and her bones seem to be continuing to remodel. Who could ask for anything more?
I could. I want a hinge for her ankle. I want her to be in ballet. But neither of those is something that we can do right now- and that makes me a little sad.
So… now we wait. This time, we will wait 2 months, and in April we will have to see what her bones will show us. He's nervous about letting her go so long, but hopefully it will all be okay. Hopefully then, we'll be able to talk about, and get a green light for, a hinge and ballet. ❤️
On our way out, I had to take a pic of all her loot. They gave her a new stethoscope, a stuffed penguin, and NINE stickers! ? What a spoiled little princess!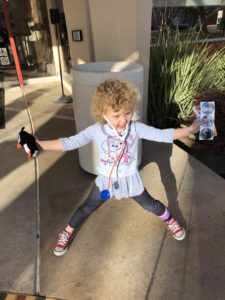 After her appointment, we stopped by ITC MediCal Supplies and gave back her sad wheelchair with the torn seat. We've had it a year now, and she still hasn't grown quite into it. But we've paid enough for it, that we have now bought it. So why return it? Because we're probably going to need it again. For a trip to Disneyland? Or a fair? Or any other occasion where she may throw up her hands and say "Okay, that's enough, I shouldn't walk any more." So we traded it in for the exact same chair- but this one is brand new.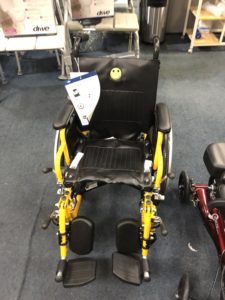 So the next time we need it, we have a good one that doesn't have the legs falling off. Amy approves of her new wheels.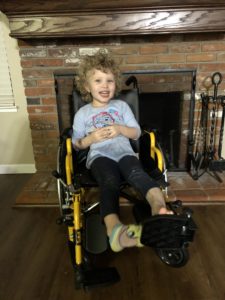 Anyways, at the end of this year, there are still questions that I don't have the answer to. I don't have a crystal ball to see what the future will be. But a year later, I have to agree- this surgery was her best shot. I'm so glad we took it, and I hope it will keep paying dividends. I am sad that we don't have side-by-side union, but at the end of the day, her leg is stronger than it was a year ago. Isn't that the most important thing?
If you're reading this, and your child has a bowed tibia, I highly recommend looking into the procedure. You'll find more information in our Medical Articles section.
Now if you feel like being nostalgic and walking down memory lane with me, here's the link to the post I wrote when she was hospitalized. Hospital Adventure: The McFarland Bypass Procedure