I feel like we have waited ages for thie appointment. Amy has been out of school, but then suddenly over the weekend, she seemed to be better. She even said she didn't want to take her wheelchair to see Dr. Frick. She was really mad when I insisted. But I told her what my mom always said, "It's better to have it and not need it, than to need it and not have it." We took the chair.
Guess what? She needed it. (Big surprise.)
I expected to wait any length of time. Perhaps even a couple hours. We arrived a scant 5 minutes early, and after I checked her in, I didn't even sit down before it was time to go back for x-rays. (what???) We did x-rays again, of those same three shots. AP, Lateral, and that cocked shot, which I know know is called "oblique". (So tempted to go back and edit my earlier posts, but I will resist, lol.) I was surprised we were doing x-rays, but it was explained that any sudden up-tick of pain with this condition warrants it. Okay, that makes sense.
We got the x-rays, and I won't bore you with them. They were unchanged. So, what do we do now?
Short answer is surgery. When? ASAP. But not the 1st week in December, because he will be in Florida at an orthopedic symposium. We had two choices. Get her on the schedule next week, and operate right away, or wait until after the symposium. If we chose the latter, he said he would put together a quick PowerPoint of her case, and present it to his colleagues, soliciting more opinions on how they would proceed.
Guess what we picked? Yup. December. So we have about 3 weeks until surgery. We should have a date by the end of the week. What surgery? Another good question. So far, we have three options to choose from.
We do a bone graft from the back of the hip, and fill in the gap between the McFarlnd graft and her tibia with both it, and some bmp.
2. We do a SECOND McFarland, right on top of her other one. Adding a 2nd doner fibula, plus doing a graft from her hip, and filling in the space. (So, Option #1 Plus Ultra) This seems to make the most sense to me, but there is only X amount of room in her leg. Would another fibula even fit?!?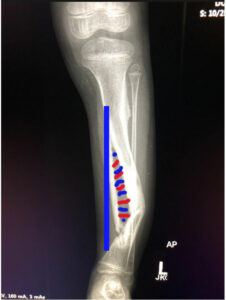 3. We do a classic rodding surgery. Break the tibia, put a rod up it, and use a combination of bmp and bone graphs to hope that it will heal.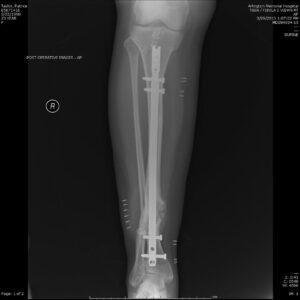 (Note, x-ray is not of Amy's leg.)
As I mentioned before, one doctor that he spoke with is particularly in favor of this method, and now we know why. Apparently, he believes that the tibia is fractured.
I don't think it's fractured. It really does look the same as before her 1st surgery (minus the McFarland) and it wasn't broken then, but… *sigh* idk.
Decisions, decisions. Dr. Frick doesn't think it's fractured, and he's not really in the Option 3 camp, but we really don't know how this is all going to shake out. I feel that there is a lot of trust involved here…
So, we wait. The scheduler should be calling sometime this week before Thursday, so we can make solid plans, but at least we can make loose ones now. Amy is upset. She doesn't want a cast. I'm worried about pain control and taking meds. The liquid narcotics are HORRIBLE tasting, but she can't take pills… unless I could teach her now? I wonder when pre-op would be… that week? Before the symposium? After?
I feel like I have more questions than answers. only one way to discover those answers… time. Patience is not my strong suit, but at least this time there is less fear. It's going to be okay.